---
This delicious Mediterranean Vegetable Pasta with pesto makes a healthy plant-based dinner.
Make extra for lunch the next day – you'll thank yourself!
Traditional pasta tastes great (duh), but often lacks protein and fiber!
Elevate your traditional vegetarian or vegan pasta recipe by using a high-protein pasta made from chickpeas, lentils, or black beans. For this Mediterranean Vegetable Pasta, I used Trader Joe's Yellow Lentil Spaghetti & Brown Rice – they have 14 grams of protein and 3 grams of fiber per serving.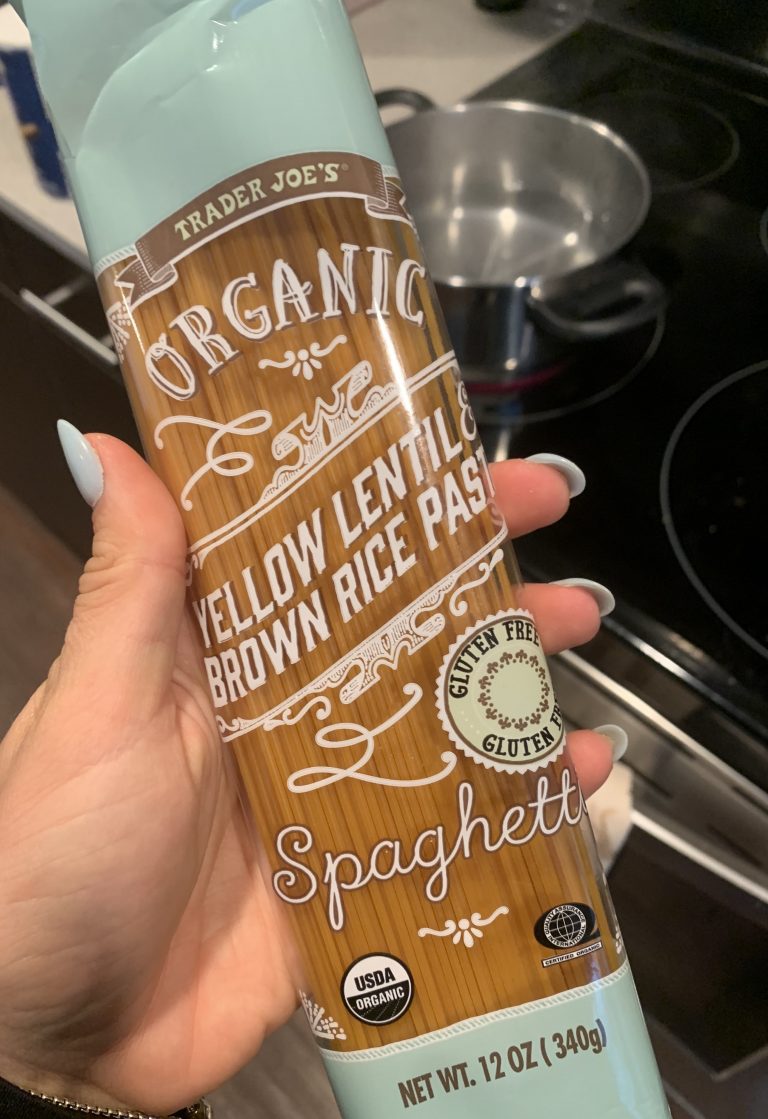 Banza is OG high protein, legume paste. It's made from chickpeas and is probably my favorite taste & nutrition.
But what kind of registered dietitian would I be if I didn't encourage you to eat your vegetables? Non-starchy items like peppers, onions, tomatoes, zucchini, & eggplant add texture, fiber, and a Mediterranean vibe to this recipe.
Since I LOVE large plates of food, adding lots of vegetables allows me to eat large amounts of food without exceeding my caloric needs. I tend not to snack on sugar or snacks when I step away from a large plate of vegetables.
I pull this meal along with Trader Joe's Vegan Kale & Cashew Pesto Sauce… and wipe it down immediately with goat cheese. Oops! Take it or leave it.
PS- one of my clients taught me this method of cooking tomatoes, so I grilled them separately! Very delicious! But incorporating it into other vegetables will also work.
Mediterranean Vegetable Pasta
Prep Time: 10-15 minutes
Cooking Time: 45 minutes
Material:
1 small eggplant, sliced ​​and chopped
1 zucchini, chopped
1 red bell pepper, sliced ​​into 1 inch pieces
1 orange bell pepper, sliced ​​into 1 inch pieces
1 red onion, sliced ​​in 1 inch pieces
Garlic salt
1 liter baby tomatoes
Extra virgin olive oil
1 Head of garlic
Thyme
High protein pasta (I used Yellow Lentils & Brown Rice, but chickpea or black bean paste will work)
Pesto (I used store bought but we have the recipe here)
Optional: goat cheese or feta cheese, nutritional yeast
Instructions:
Preheat oven to 400'F. Line a large baking sheet (or 2) with aluminum foil. Set aside.
In a large bowl, combine vegetables except baby tomatoes. Add olive oil* and coat evenly. Spread on a baking sheet and sprinkle with garlic salt. Bake in the oven for 40 minutes.
In a separate baking dish, add the tomatoes. Drizzle with olive oil. Add the thyme and garlic head. Bake for 25 minutes, remove & drizzle with balsamic, and bake for another 20 minutes. When done, crush the garlic and remove the thyme leaves from the stems.
Meanwhile, cook pasta according to instructions.
Once the vegetables and pasta are done, combine them with the pesto.
Optional: sprinkle with goat or feta cheese & enjoy!
*Knowing it is higher in fat with the pesto and goat cheese, I chose not to use oil when grilling these vegetables. I use nonstick spray on aluminum foil. I tossed the vegetables into the vegetable stock for moisture and seasoned them as usual.
Prepare this meal for yourself or your family? We want to see! Share your masterpieces and tag us on Instagram @nutrition.awareness.
You may also like…
Kait Richardson is a registered dietitian nutritionist in Orlando, FL. She is a partner in private practice, Nutrition Awareness, where she helps frustrated yo-yo dieters achieve their health goals using 1:1 nutrition coaching. She is the co-host of the Nutrition Awareness Podcast.
Disclaimer: Some blog posts may contain one or more affiliate links. All opinions are my own.